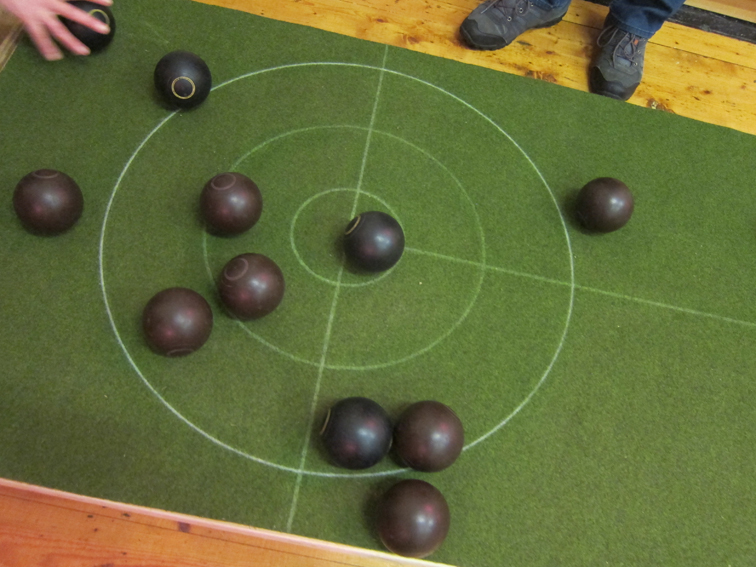 In the depths of winter, 64 people have battled through rain, hail and snow and potholes (this is Argyll of course) to become the best club in the league.
Furnace, Inveraray, Cairndow, Portsonachan and Dalmally meet either home or away between October and March to contest this long established league.
Old acquaintances are renewed, new friends made. Local gossip exchanged and old rivalries rekindled. With some, the atmosphere can be tense and very competitive, others are more laid back.
After the match has ended there is the usual tea, savouries and cakes (this is Argyll of course). Raffles are drawn and the vote of thanks given. The teams return to their respective homes and the analysis of the match is made. If only we had . . .
These are just the league matches!!!
Then there are the club nights held in the hall where teams can practice, change team members and try new techniques.
The bar is open if you want a drink, your team mates are there to criticize your playing and a relaxed pleasant evening is spent in good company. There are internal competitions for Single and Pairs champions.
An evening of fundraising is organised to help boost the club funds with the entire village invited.
I hope the sharing of this experience with non members will inspire you to join us next season. Unfortunately, due to ill health and other commitments we may lose some of our members and may be struggling to remain in the league. Look out for the posters in shop and notice boards in September. Come and join us and fight the winter blues!