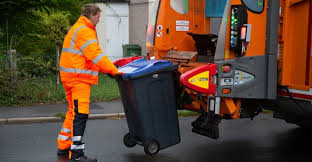 This is a rubbish page! Argyll and Bute Council are responsible for collecting our 2 bins on a fortnightly or every three week basis. Green bins are for general (non-recyclable) rubbish, a collection is every three weeks, Blue bins are for recyclables, except glass and these are collected every other week.
To see 2020 collection schedule click here.
To see 2021 collection schedule click here.
There are large glass recycle bins in the carpark next to the shop.
There are bins in the layby at the south end of the village, in the village itself by the hall.
Messy pup!!!
Please take responsibility for your dog and clean up after him/her. If talking to the persistent offender (the owner, not the dog) does not work or they are 'sensitive' to criticism and will lobby abuse back then feel free to report to the dog warden at the council by clicking here.
Apart from the fact that it's out and out unpleasant to step into the smelly stuff and makes the village look horrible it has been estimated that the tiniest bit of poo contains over 23 million fecal coliform bacteria so just pick the stuff up and put it in your bin. It's not hard. It's not difficult!